Nail art is emerging as a cutting edge trend this year, and many women find using a simple nail stamping system the easiest way to enjoy nail art. However, the special polishes sold with these systems are often very expensive, deterring many from having more fun with their manicures.

We found that one creative blogger, Michelle at A Stroke of Color, found a way to work around the tiny expensive polishes: she uses nubar Pastels for her nail art! nubar's Pastel Fever Collection polishes are so well pigmented that they work beautifully with the stamping systems, and unlike other polishes, they do not smudge when a top coat is applied. Michelle's manicure shows you what a beautiful effect she was able to create using nubar's Baby Blue.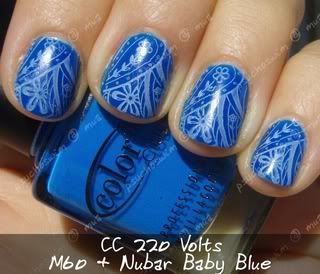 nubar's Baby Blue, as well the entire Pastel Fever Collection, are available at bynubar.com.