We found Siobhan at The Nailphile wearing nubar, and again we exceeded her expectations. Yesterday she wore Pasadena Purple and found that, "I saw images from the movie with it and bottle pictures of it, even other blogs' pictures, of it. I tell you: pictures don't do this one justice. Mine don't either. This is an instant Top 20 polish for me... It's so rich and pretty and glowy!" That is high praise coming from someone with so many polishes to choose from as The Nailphile.

Siobhan was thrilled with Pasadena Purple, and she was also excited to have recently received some of our Glitters. She said, "...more pretties came with it that I couldn't wait to dig into. I have glitters! I added two coats of Nubar Purple Fire to this one."

Here are her photographs of the polishes.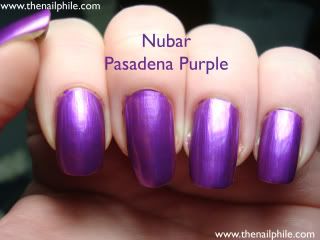 Because Pasadena Purple has been the hit color of Spring 2009, it is temporarily out of stock at www.bynubar.com. Rest assured that it will be back in stock very soon, and Purple Fire can currently be found at www.bynubar.com.