Michelle at AllLacqueredUp had the opportunity to preview nubar's Going Green collection yesterday, and we were thrilled to find that she loves this collection.

Describing the collection as a whole she said,"It's like a dream come true... In regards to the formula the bottom line is this; smooth, thin, well pigmented, two coat coverage, fast drying. In other words, pretty damn perfect. Each color glided on with ease." Two of her particular favorites are Greener and Reclaim.

Of Greener Michelle says,"I don't know that I've seen a more gorgeous polish in my life than Greener and I'm not exaggerating. It's heart stopping stunning and as incredible as it looks in pictures, it's even more jaw-dropping in person. A true emerald shimmer, this exemplifies jewel tone and I own NOTHING like it."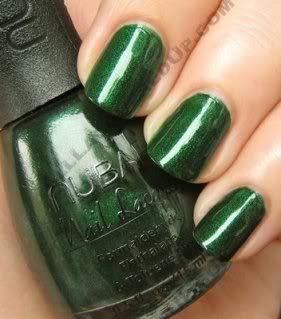 All Lacquered Up in nubar Greener

Her impression of Reclaim was equally strong, and Michelle tells her readers, "I've been waiting for a great green holo polish... This one is a fabulous springy, grassy hue packed with fine holographic glitter. I wish it had been sunny so I could show its full holographic power."


All Lacquered Up in nubar Reclaim

nubar's Going Green Collection is coming soon to www.bynubar.com, and its arrival will be announced via Twitter immediately when it becomes available.