Siobhan at
The Nailphile
recently previewed nubar's Modern Matte Collection, which will be released in mid July. She was very impressed with this collection of four unique matte shades, saying, "There are three notable things about them: (i) they can be used with a base and top coat, so no nail staining (and we'll get to the top coat part...); (ii) they are incredibly pigmented, being opaque in one coat (I did two to be consistent with other Nubar swatches); (iii) they're crazy quick-dry." She went on to photograph each of the nail lacquers both with and without Diamont Seal & Shine Top Coat.
Highlights of her photos include her picture of Contempo,
Siobhan Wears nubar's Contempo
as well as her picture of Prevail, of which she tells her readers, "Prevail is just unbelievable. It's a cool slightly grey purple with a boatload of shimmer."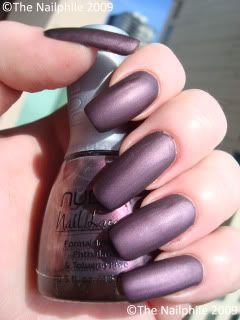 The Nailphile in nubar's Prevail
Siobhan's complete review and additional photographs can be found at The Nailphile, and the Modern Matte Collection will be available at www.bynubar.com in mid July.