Scrangie had the opportunity to review nubar's Modern Matte Collection this week, and she was exuberant about them.
In general, she says that, "I'm not really one to care about trends, but wow, the matte trend is huge this year," and that she rates nubar's matte formula superior to all others. She tells her readers, "The formula on these is great. Smooth, even-textured, easy to control, not too thick. I didn't have a single problem with the formula. These mattes are much more forgiving than the other mattes released so far this year. The reason for this is that they don't dry as fast. With other mattes, they start to dry as you are applying them. These stay wet during application which allows room for error. The drying time is still super fast, totally dry within about five minutes, but you have a little more time to work with them, which is to your advantage."
Scrangie has excellent photographs of all four shades. Of Avant-Garde, she says, "Unique russet is the manufacturer's description and I'd say it fits this shade quite well. It's a reddish, brownish, coppery type of color that just screams fall."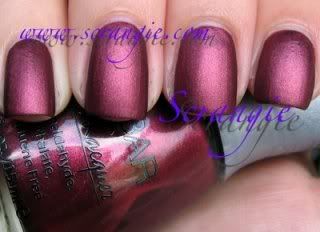 Scrangie's Matte Avant-Garde
"
Prevail
. A spectacular purple. This is a really gorgeous shade. It's a deep, dark brownish purple. Purple with touches of gold. Very dramatic."
One of the unique advantages to nubar's Modern Mattes over other matte nail polishes is that they can be used with a base and top coat, while others indicate that a base and top coat should not be used. Scrangie went even further with exploring different looks for the Modern Mattes, and suggests, "If you're not crazy about mattes but still like the color, you have options! Take these for example. They dry matte, but if you want glossy, just add a topcoat like Nubar Diamont Shine. If you change your mind and want to go back to matte, just add a coat of Nubar V For Men. Or you can go partially matte, partially glossy by doing a french tip with either matte or shiny topcoat, or using matte or shiny topcoat to Konad a design on top."